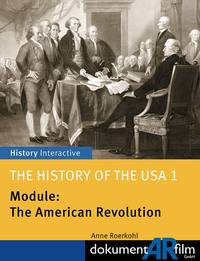 The History of the USA 1
Module: The American Revolution
Immerse yourself in the history of the United States. This book will take you on a journey through time to the inhabitants of Boston as they rebel against the English crown, to the authors of the Declaration of Independence, their demands and objectives. What compels Great Britain to back down? On which founding principles is the new nation based?
A multimedia history experience with films, picture galleries, and reading comprehension quizzes awaits you. It is perfect for all those who share in the excitement of history.
Enjoy! Your team at Anne Roerkohl dokumentARfilm GmbH
For questions and comments, please don´t hesitate to send us an email: info@dokumentarfilm.com
Structure of the book
The module begins with an approximately 12-minute documentary film about the American Revolution. It describes the successful pursuit of the settlers for independence – from the Boston Tea Party to the American Revolution and the Declaration of Independence to the American Constitution.
The film can be played in full or in individual sequences and is an unabridged version of module 2 from our DVD production "The History of the USA 1".
The film page is followed by accompanying texts, contemporary sources, and interactive features. Reading comprehension questions and activities offer fun ways for you to check your knowledge.
Use in school
This book was tailored for teaching practice by experienced education experts. It includes films, photo galleries, and related tasks such as quizzes to regularly check your reading comprehension. Students can therefore independently engage with the teaching material and have fun while learning about history.
You can play the films in full or by chapter – so you can watch the 5 minute-long clips and follow them up within a school lesson.
Films and materials are self-contained and can be used individually to prioritize specific themes.
The tasks and skills pages can be used to work on the contents and to consolidate your knowledge.
There is also a German version of this book available for German lessons.
An accompanying course on iTunes U demonstrates practical teaching scenarios using the German version of our iBooks textbook The History of the USA 1.
Secondary school levels: I + II
Languages: English
Format: 46 pages
Published: 2015


Module: The American Revolution
Content
Module film: The American Revolution
Boston Tea Party
Give me liberty, or give me death!
The Declaration of Independence
Remember the Ladies
The War of Independence
The Constitution of the United States
Constitution and Slavery
The Bill of Rights
Quiz